Over 78% Of Consumers Say They Use Search Engines 
      As The Primary Way To Research Purchases Online*.

How Can You Afford Not To Be Listed In The Search Engines?

Introducing The Smart Link Business Profile for
Local Business
Chances are if you could capture a significant portion of the people searching for your business on the net, your small business could be transformed into a serious player in your industry. The problem is that getting this traffic and keeping it can be too expensive for many businesses, especially if you hire an optimization professional.
If you can't get your business information right at this level, it will have a negative impact on the success of your business online.
That's why Smart Link and your Master Business Profile are the foundation of your business on the Internet.
You can do it once through us, or do it dozens of times on your own, while trying to stay on top of the inventory changes in the market.
It is inexpensive and simply put, makes perfect sense for any local business.
Why is Local Search So Important?
Over 1 BILLION local searches are performed online EVERY month!! (And growing at a rate of over 50% a year.)
82% of local searchers follow up offline via an in-store visit, phone call or purchase (TMP/ comScore)
90% of online commercial searches result in offline brick and mortar purchases (proprietary research / comScore)
66% of American use online local search, like Google local search to locate local businesses (TMP/ comScore)
54% of Americans have substituted the internet and local search in lieu of phone books (comScorenetworks)
43% of search engine users are seeking a local merchant to buy something offline.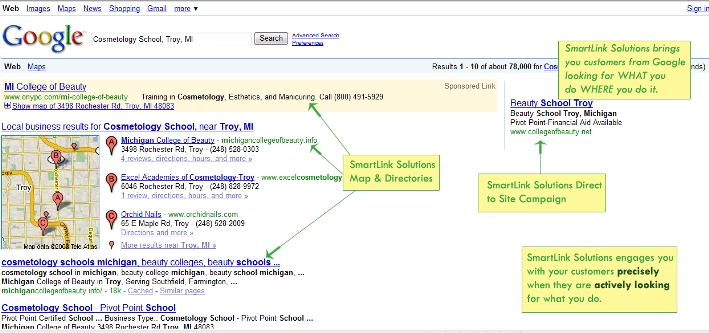 BE SEEN ON . . . .









* According to a February 2004 survey by Pew Research